Who is in Your Workforce?
Understand who is in your workforce & how they feel.
Diversity Meter™
A robust assessment service designed to uncover the diverse composition of your organization's workforce and discover your employees' true sense of inclusion.
A thriving workforce sustains a thriving workplace.
Measuring your organization's demographics helps to ensure that the organization is meeting diversity, equity, and inclusion (DEI) goals. By understanding the demographics of the workforce, the organization can identify any disparities or imbalances and take action to address them. This can include initiatives such as hiring more diverse candidates, promoting inclusivity in the workplace, and ensuring equitable treatment and opportunities for all employees.
Second, measuring workplace demographics can help to identify areas where the organization may be facing talent shortages or skill gaps. By understanding the makeup of the workforce, the organization can take steps to attract and retain employees with the skills and backgrounds that are most needed.
Finally, measuring workplace demographics can also help to identify opportunities for growth and development. By understanding the backgrounds and experiences of employees, the organization can identify areas where additional training or support may be needed, as well as potential areas for employee advancement and leadership development.
This highly effective assessment service is designed to provide insight into your workforce's diverse composition enabling you to find out how your employees truly feel about their sense of belonging to your organization.
Leverage data from 3 unique survey modules
Diversity Meter offers 3 unique survey modules covering Diversity, Inclusion, and Employment Equity.
Each module is available in both Canadian English and French.
Diversity Census
Split into 2 distinct submodules — workplace and personal demographics — this module creates a profile of your organization by assessing your workforce based on roles and duration of employment, as well as 13 personal diversity dimensions.
Inclusion Survey
This module identifies feelings of inclusion among your employees and allows you to compare one group's experience of inclusion against others using the Diversity Census data.
Employment Equity Data Collection
This module gathers self-identification information as required under Canada's Employment Equity Act and is used by employers subject to the Legislated Employment Equity Program or Federal Contractors Program. It includes questions for the four designated groups established under the Act: women, Aboriginal peoples, persons with disabilities, and members of visible minorities.
Choose the version that suits your organization's needs.
Diversity Meter™ • Features & Options
Powerful enough "out of the box" for most organizations. Highly customizable to adapt to any need.
BX
RECOMMENDED
Suitable for most organizations.
CX
Suitable if you need to import HRIS data.
DX
Import HRIS data & Diversity Census questions.
EX
Extensively customizable.
Alter Question Text
You can adapt the text of a question as long as it does not alter the meaning of the question.
Add 1 Open-ended Question
EMPLOYMENT EQUITY DATA COLLECTION
Work email
Using employee work emails is the default option.
Fusion login
Uses any email address + password
Recommendations Presentation
Thematic Qualitative Analysis
Yes
Available if an open-ended question is added.
Yes
Available if an open-ended question is added.
Yes
Available if an open-ended question is added.
ADDITIONAL CONSIDERATIONS
Option
Required for languages other than English or French. An additional fee applies.
Employment Equity Data Collection can be added to Diversity Meter or purchased as a standalone module. The data collection for this module adheres to legislative requirements.
Want to speak with an Account Executive to discuss how Diversity Meter can fit into your DEI strategy?
Complete this short form to contact us regarding Diversity Meter for your organization.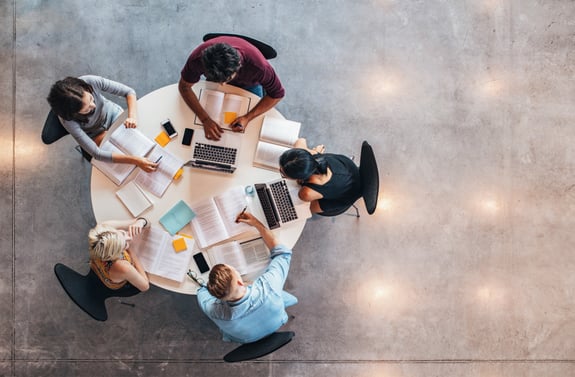 Drive culture change across your organization
Learn more about our eLearning, Instructor-led Training, and Facilitated Webinar Series 'Idea Hour,' designed for Canadian workplaces.